Contact Us

25 Years of GSF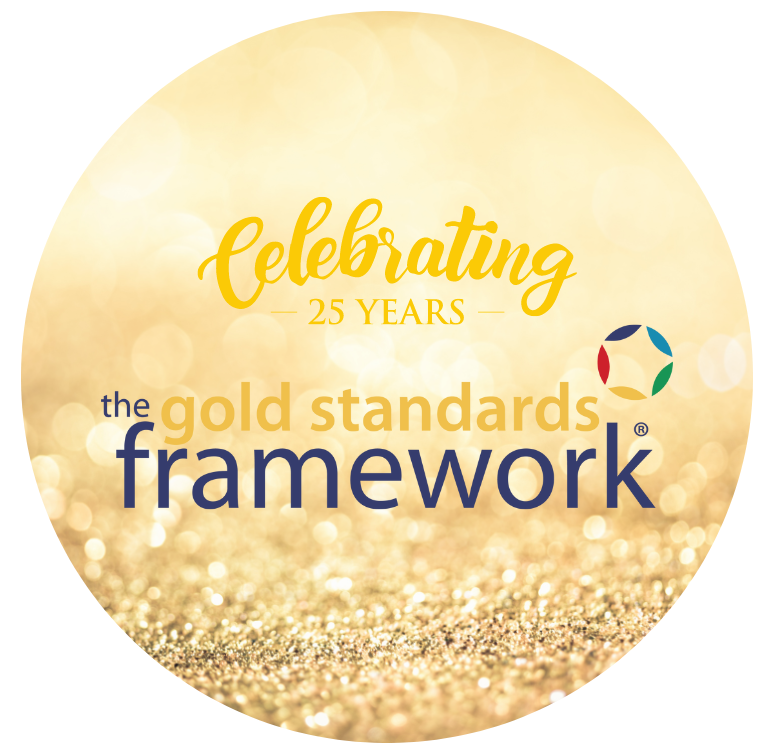 In the last 25 years, The Gold Standards Framework Centre has trained over 5,000 teams, about half a million stafff and accredited over 2,000 organisations, affirming its position as the UK's leading training provider in end of life care for generalist frontline staff across all settings.
To mark our 25th anniversary this year, on 22nd June, we hosted an online celebration event, chaired by Professor Martin Green, CEO of Care England, focusing on the impact, reach and influence of GSF over the last 25 years, showcasing examples of excellence from frontline GSF Accredited teams, including Hill House Care Home, our 2022 GSF Care Home of the Year.
With contributions from leading experts, professionals, and thought leaders in the health and care sector, the event included keynote presentations and an interactive panel debate on the future of end of life care, fostering a dialogue around various topics such as the vital importance of social care provision (in particular domiciliary care), population-based end of life care and advance care planning.
In our press release following the event, we issued a call to Government to make more resources and training available for more generalist frontline staff caring for people in the last years of life. We ask that high-quality end of life care should become a national priority in the context of our ageing population, and increasing home deaths. You can read our press release here.
According to research commissioned by GSF, there is widespread public support, with two thirds of people (67%) supporting our call for the Government to provide more resources and training for end of life care as a national priority.
If current trends continue, home and care home death rates are set to almost double by 2040 as hospital death rates decline. But without further investment in end of life training and support for staff in the community, the decline in hospital deaths will start to reverse. This would lead to poorer quality of care for the dying in the community along with increased emergency admissions and hospital deaths, meaning people will be denied the chance to die at home. Professor Keri Thomas OBE, Founder & Chair, GSF
The research also highlighted a concerning lack of public awareness around end of life care, with 50% of people admitting they had scant knowledge of the care and support available to them in the last years of life. More significantly almost two thirds (61%) said they would appreciate a discussion with professionals about the end of life care options available.
The GSF 25th Anniversary celebratory event gave the opportunity to reflect on all the work that has been done over the last 25 years to improve end of life care services nationally, building on the initial work created by our founder, Professor Keri Thomas. However, there are still challenges - we have an ever-growing aging population and a taboo around death and dying. Educating the workforce by creating a compassionate system ready to engage in open honest conversations with people and their families is so important. The GSF service improvement programme has supported the development of services in health and social care including retirement villages and domiciliary care to actively engage in advance care planning conversations with their patients, residents, customers and clients creating a culture that embraces the conversation around death and dying by acknowledging what matters to each and every individual. Julie Armstrong-Wilson, Chief Operational Officer, GSF
Delivering good end of life care is a vital part of the health and care system. The Gold Standards Framework has delivered the very best end of life care for over 25 Years and is truly integrated across the entire system. GSF is used in hospitals, primary care, Care, Homes, and Homecare services and is widely respected by citizens, families and professionals. Prof Martin Green OBE, CEO, Care England
Videos
25 Years of GSF - An Overview
GSF 25th Anniversary - Testimonials
GSF 25th Anniversary Celebration
Press
The Carer Article - 30th June 2023
Business Mole Article - 4th July 2023
SME Bulletin Article - 4th July 2023
You can get all of GSF's latest updates on twitter and linkedin.