​Care Homes Training Programme
The GSF Care Homes Training programme is the most widely used training programme for all care homes in the UK, supporting all elderly residents as they near the end of their lives. Since its launch in 2004, over 3400 care homes have completed the programme, and over 750 have become accredited with the well-recognised GSF Quality Hallmark Award.
The GSF Accreditation Quality Hallmark Award is nationally recognised as a kite-mark for quality, recommended by Care Quality Commission, Care England, National Care Forum, National Care Association, Registered Nursing Home Association, British Geriatrics Society and other national organisations, with high numbers of 'CQC Outstanding' homes being GSF Accredited.
Over the last 20 years, effective end of life care training for the whole staff team, including better working with GPs, using the GSF Care Homes quality improvement programme, has been pivotal in improving care, and is crucial for the sector in future.
GSF Care Homes Programme Flyer GSF Frontrunners in Care Homes
Hundreds of thousands of residents have benefited from GSF in their care home enabling more proactive, personalised, well-coordinated care, in line with the NHSE Long Term Plan (2019), NICE Guidance and other national policy guidance, with significant reductions in hospital admissions and deaths, enabling more to live and die where they choose.
Care homes play an ever more pivotal role in the care of people approaching the end of life. One in five deaths now occurs in a care home, predicted to rise as the population ages. It is estimated that on average 80% of residents are in the last year of life and about 50% of hospital admissions of residents from care homes could be avoided with better staff training.
GSF can be the answer for your care home, for your relative and for your area.
The GSF Care Homes Gold Programme
Find out more about the GSF Care Homes Programme below:
GSF is a tried and tested way of delivering transformational change in line with current best practice, and helps you attain the Enhanced Care in Care Homes (EHCH) model in practice, enhancing primary care support and working with GP's, MDT and in-reach support. It promotes independence and high-quality integrated care in final days, as well as workforce training and development leading to a more confident team and fewer crisis hospital admissions and deaths.
The GSF CH Programme includes
Updated training includes 8 interactive webinars over 6 months
Resources, tools, videos, measures and support included
A simple plan (1357) focussed on 7 key tasks,
Quality recognition - progress to accreditation with the well-recognised GSF Quality Hallmark Award within about 12-18 months.
Affordable - average cost for training programme £995 +VAT including all staff
Outcome focussed - evidence of impact, audits, systematic care, all useful for CQC
Digital-ready - helps get you ready for better IT record sharing for integrated care.
Enables the NHSE Enhanced Health in Care Homes EHCH (see below)
"The GSF programme represents incredibly good value, builds on 15 years of success involving thousands of care homes, where it has been shown to be transformational, not only for staff but for relatives and residents. GSF helps demystify dying, and encourages everyone to play their part, so staff morale improves and turnover decreases. In enabling better quality care, with better outcomes recognised by CQC, this helps differentiate quality homes from others, making them stand out in this vital area of care." Martin Green, Chief Executive of Care England
Why do GSF Training?
It is the leading and most successful quality improvement programme in the UK, with over 3,400 care homes trained (25% of all nursing homes).
It leads to the well-recognised GSF Accreditation Quality Hallmark Award.
The Accredited care homes are a hallmark of excellence in their area, recognised by CQC, by NHS Choices, by commissioners, and by other indications of quality provision.
The data base of care homes is available to the general public and families often seek a GSF care home as their preferred choice for their relative.
Long term sustainability of the programme has been demonstrated, in that over 750 care homes are now reaccredited 3 years on, with more than 100 care homes receiving reaccreditation for the 4th time, 12 years on! We are proud of the hard work of all GSF accredited care homes and want to celebrate the sustained excellent practice of care homes which have embedded GSF in their core working practices. In acknowledgment of this, homes that achieve re-accreditation are known as GSF Platinum Homes.
How to access GSF training? There are opportunities to join an 'Open' GSF Programme in London, more locally through a large number of Regional Training Centres across the country or to be locally commissioned for specific projects in a local area.
**GSF helps deliver Enhanced Health in Care Homes (EHCH)**
Download the summary of our Bronze, Silver, Gold Support Offers here, and see how GSF can help you achieve EHCH.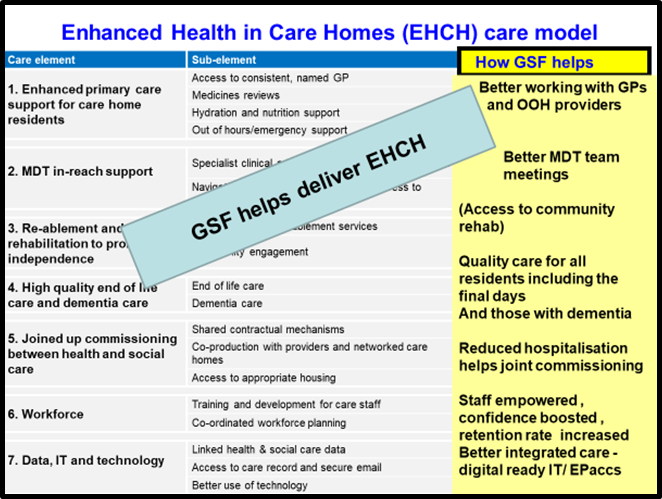 In response to learning from our multi-accredited homes, and the NHS England Vanguards, in 2018 we updated and revised the GSF CH programme, making it accessible for all providers and ensuring that it helps CCGs, PCNs and care homes achieve policy outcomes including the Enhanced Health in Care Homes (EHCH). "We were so impressed with the standard of care our mum received and the way in which GSF was implemented in the home" letter to GSF Accredited care home from relative.
GSF helps you implement EHCH in practice
GSF helps you attain the Enhanced Health in Care Homes model in practice through enhancing primary care support and working with GPs, MDT and in-reach support. It also promotes independence, high-quality care in the final days, promoting integrated care, workforce training, development and confidence-boosting and enabling better use of technology. The main and most effective way to implement GSF and achieve accreditation is through the GSF Gold programme, but there are also other ways that GSF can help you attain the goals of the EHCH in your home and your area, through the 2 other new support offers. These include;
| | |
| --- | --- |
| 1. Bronze | FREELY AVAILABLE resources and videos on the GSF website, including help with identifying decline early in residents (using the GSF Proactive Identification Tool), enabling advance care planning discussions, videos, examplars and useful tools. |
| 2. Silver | Silver - with on-line teaching videos - All the free resources above, plus access to a sample of our on-line distance learning teaching modules. With further support, teaching and evaluations this could lead to progression to Gold and the GSF Accreditation Quality Hallmark Award. |
| 3. Gold | Gold – The full updated GSF CH Programme ensuring attainment of NHSE EHCH outcomes and well recognised GSF Quality Hallmark Awards at Accreditation, with 8 interactive webinars teaching your staff how to implement GSF in the home, full resources and audit tools. |
The Care Homes Training Programme is strongly experiential and peer supported, using many real-life examples from homes. We build on the belief that staff have a special relationship with their residents and aspire to the best, and we wish to affirm and encourage them, building confidence and ability to provide excellence in care. Although collaboration with specialists, GPs and others is important, this is about the way a care home team itself functions and how the 'Gold Standards' thinking runs through the whole home.
Simon Pedzisi, Director of Care, Nightingale Hammerson, speaking at the GSF Conference, September 2018
Rachel Metzger, Deputy Home Manager, Fairlie House, speaking at the GSF Conference, September 2018
The benefits of using the GSF Support Offers are that they build on your current GSF usage, GSF is tried and tested for over 15 years, GSF helps the 'HOW' to do it, as well as 'WHAT' to do, and is invaluable to kick start change.
To register your interest and receive details regarding the next GSF Care Homes training programme please complete our Expression of Interest form.
Updated: 16.10.2020