Welcome to the Primary Care Training Programme
The Gold Standards Framework (GSF) in primary care was developed originally back in 1998, to enable GPs and Primary Care Teams to provide top quality care for all people in their final year of life, with any condition, in any setting, at any time. GSF principles were integrated within primary care throughout the UK from 2000, and mainstreamed from 2004 as part of the original GP Contract Quality Outcomes Framework (QOF). Now 95% GP practices have GSF/ supportive care registers and regular meetings to discuss these patients, with increasing numbers of identified patients on the register. The developments in primary care have been supported by the Department of Health, Royal College of GPs, General Medical Council, NICE guidance, and the Care Quality Commission
In 2019, GSF launched the silver programme as a support offer in alignment with QOF GP Contract in End of Life care (2019). The GSF gold programme is the support offer in alignment with national policy initiatives in England, the NHS Long Term Plan, NICE guidance and the Enhanced Health in Care Homes. On completion of the Gold programme practices can progress forward to accreditation and receive the quality Hallmark Award. More GP practices are being encouraged to continue to improve end of life care, to provide more proactive person-centred coordinated care, with more people identified to be in their last year of life offered advance care planning discussions and enabled to live well and die well in the place and manner of their choosing with effective communication and collaboration with care home sector.
Why improve end of life care – and how GSF can help?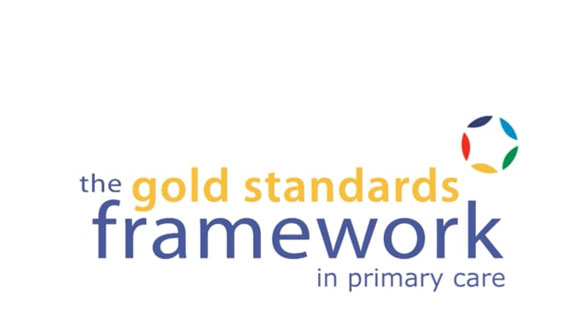 The benefits of using the GSF Support Offers are that they build on your current use of GSF. Having been tried and tested for more than 20 years, GSF offers tools and expertise to help you improve end of life care within your practice. The Gold Programme is endorsed and co-badged by RCGP and frontrunning practices find it invaluable to kick-start change, as well as supporting national and local initiatives.
Case Study 3 - Summary - GSF helps improve systematic proactive care and collaboration between GP practice and nursing home
To view the support offers click on the icons below:
| | | | |
| --- | --- | --- | --- |
| Click here for details | Click here for details | Click here for details | Available for individual and multiple practices |
The Accreditation Process
The Royal College of General Practitioners has endorsed GSF for the last 20 years and co-badges GSF Accreditation process and Quality Hallmark Award.
There are 4 parts to the process:
Part 1: Key outcome ratios - evidence of attainment of standards in key areas in the last year & Patient Audit - After Death Analysis x 5 deaths to demonstrate GSF is embedded in practice at patient level, and a reflective audit of those not on the register.
Part 2: Portfolio of evidence - statement of how you attain the 7 key tasks with supporting evidence and an action plan for sustainability.
Part 3: Assessment Visit - Visit from The GSF Assessment team to assess implementation, team awareness and long-term sustainability.
Part 4: Attendance at the GSF conference to celebrate your success and receive your Quality Hallmark Award.
Impact of GSF Accreditation
The initial Ten GP practices undertaking Going for Gold and Accreditation have shown:
Trebling of numbers of patients on Palliative Care / GSF Register (range 32%-69%)
Trebling of non-cancer and care homes patients on Palliative Care Register (13%-44%, 15%-44% resp.)
Quadrupling numbers with recorded ACP, DNACPR etc. (15-62%,14-60%)
Increasing numbers dying in usual place of residence (38-50%)
Carers assessment and bereavement protocols increased several fold (3%-60%, 23%-82% resp.)
"GSF has really helped us to have a good structure in place and given everyone in the practice the confidence to initiate what can be difficult conversations with people about where and how they want to be cared for and that means everyone feels more in control." Dr Sally Giovanelli, GSF 2nd time Accredited practice, Derbyshire
Frontrunners in Primary Care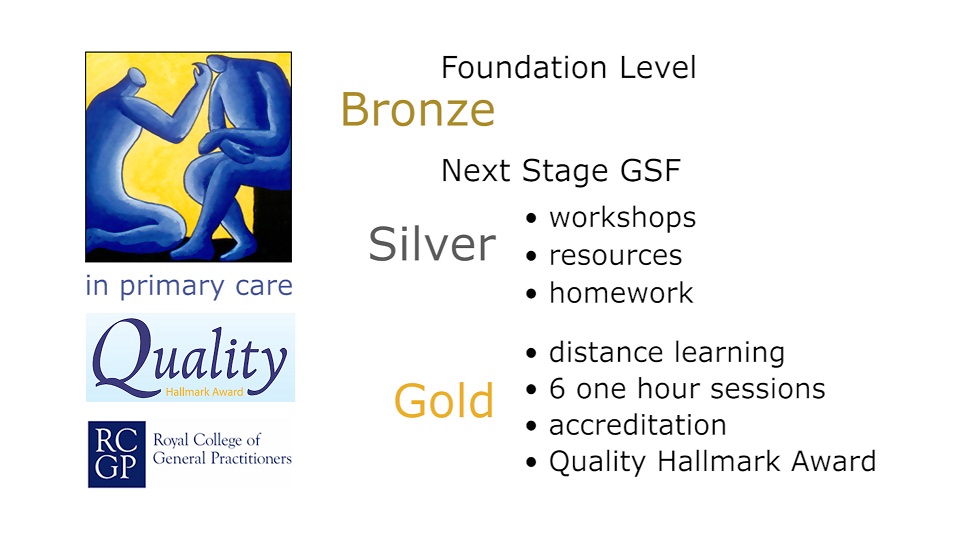 "The College is pleased to support GSF, as a major component of the RCGP End of Life Care Strategy. End of life care is part of the core business of general practice, and GSF provides a standard against which we can measure our practice and a means to further improve it". Prof Nigel Mathers, RCGP
Frontrunners Flyer BMJ Article Primary Care Poster Summary
To register your interest and receive details regarding the next GSF Primary Care training programme please complete our Expressions of Interest form.
Updated: 20.7.2022