Contact Us
To get in touch with us please use the form below or visit the Contact Us page for more information.

Hospital Ward of the Year, 2019
Dorset hospital ward wins national award for exemplary, holistic end of life care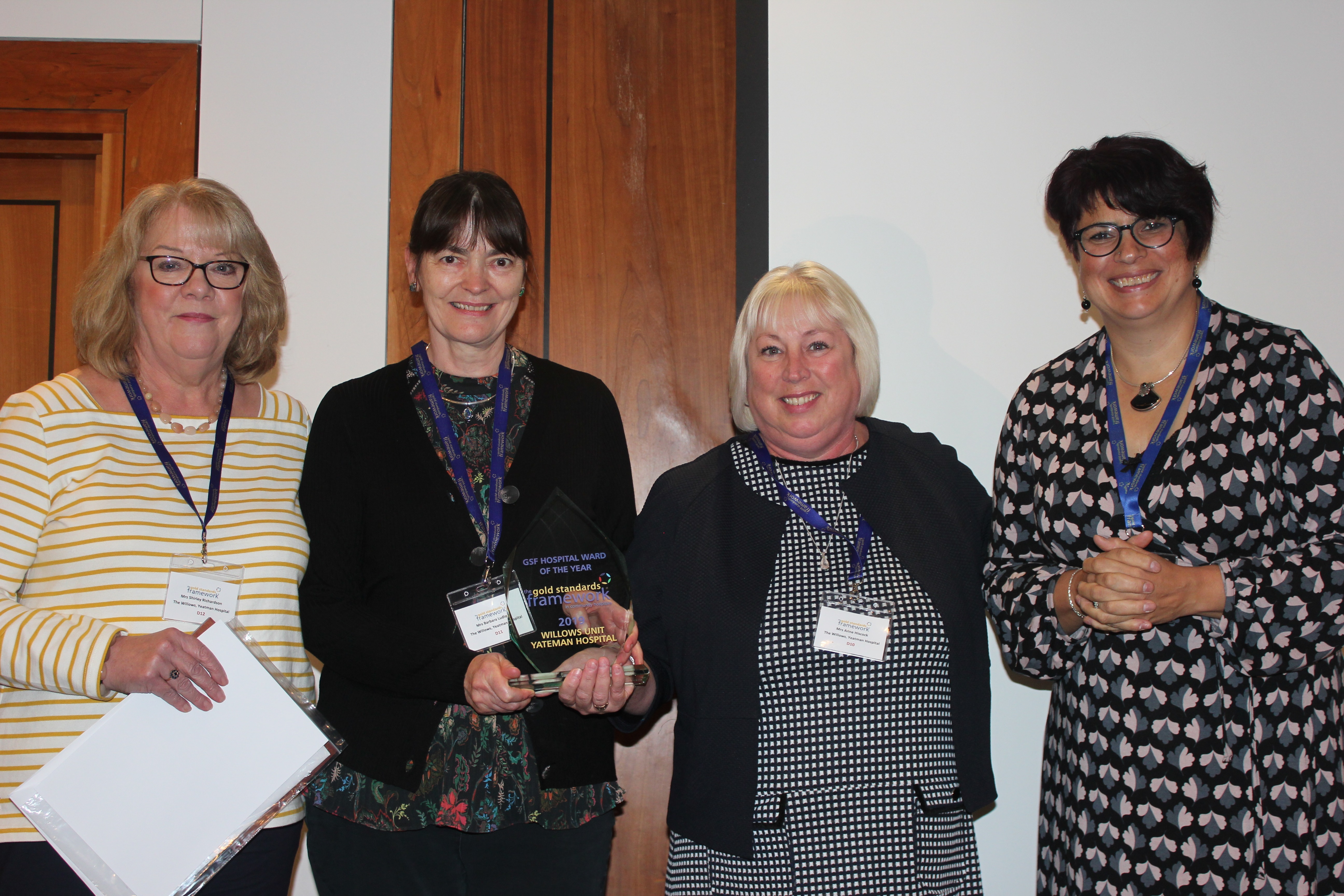 A Dorset community hospital ward committed to providing care on a par with a hospice to all patients approaching the end of life and their relatives, has been named the first ever GSF Hospital Ward of the Year.
The dedication of the whole team at The Willows ward at Yeatman Community Hospital in Sherborne, to ensure patients and their families have the best possible experience, enhanced by sympathetically designed, state of the art new facilities, won over the Gold Standards Framework (GSF) Centre judges.
Julie Armstrong-Wilson, GSF Chief Nurse, said: "All the hospital wards we have reaccredited are providing excellent end of life care. What marks out The Willows at Yeatman Community Hospital is the extraordinary lengths to which they have gone to create the very best possible environment, which really is above and beyond what is to be expected in a community hospital.
"Not only have they really grasped the ethos of GSF, but they have also dedicated significant resources, time and consideration to supporting families as well as their patients. Their holistic approach really is an example to all."
As well as introducing a raft of changes to their systems and ways of working, Matron Anne Hiscock and her team have also been instrumental in transforming the ward's physical environment, making it even more conducive to caring for people at the end of their life.
The ward already had one end of life care suite with its own bedroom, en-suite bathroom, kitchen, living area and designated garden. But the competition for this was high. Anne approached the hospital's League of Friends and secured funding for a second suite with all the same comforts as well as some modern touches like sensory lighting and a music system.
She said: "I do feel very proud. It's hard work but amazing to get this national seal of approval and recognition for the staff, as without them none of this would have been realised. Having a team who are passionate about their work and with a genuine regard and compassion for patients makes this all possible. I have been blessed with the best team in Dorset.
"I think it's given us the confidence to do things differently and to sense check against what people would do in a hospice and provided us with a structure. Through GSF we have been able to put those in place and they are now the tools to allow us to do everything else we have implemented here."
Among the many initiatives Anne and her team have introduced on the ward, all designed to improve care for patients and their relatives, are; a team of community support workers to assist people to stay at home if that's their preference, a bereavement café and death café in the hospital to encourage a more open attitude to talking about death and dying amongst staff and patients, as well as bespoke menus, flexible visiting hours and free parking. They also engaged with the local ambulance service to ensure they take patients requiring hospital care to The Willows and not the local acute hospital.
Other hospitals to receive the GSF Quality Hallmark Award for the second time included Stanley Purser Ward at Swanage Community Hospital and Wards 6 and 9 at Airedale General Hospital in West Yorkshire.
Sunrise A Ward at Queen's Hospital, Romford, Fern Ward, at King George Hospital, Goodmayes, both part of Barking, Havering and Redbridge NHS Trust, were receiving the award for the first time.
Heather Wright, Palliative Care Team Leader at the trust, said: "I'm really proud of both our teams for achieving this. It's been a lot of hard work, especially when they have a lot of competing priorities. "The most important thing about identifying patients who are nearing the end of their lives is that it gives them more choice and control over their own care."
The Margaret Centre at Whipps Cross Hospital also received the GSF Quality Hallmark award for the first time. Palliative Care Consultant Dr Elisabeth Bjorndal, said: "GSF has helped bring the team together in a way none of us had expected. Everyone, including the domestic staff feel engaged and have come up with brilliant ideas for how we can deliver even better care. The delight at winning the award has been incredible."
Dr Premila Fade, End of Life Care Lead at the British Geriatrics Society, who was presenting the wards with their GSF Quality Hallmark Awards at a special ceremony, said: "Up to a third of hospital inpatients are likely to die within a year. Hospital clinicians can play a significant role in ensuring they receive personalised and proactive end of life care by positively identifying those who may be nearing the end of life, initiating advance care planning and coordinating their discharge and on-going care with community services.
"Hospital wards achieving GSF accreditation have demonstrated their commitment to achieving this goal and providing compassionate care, they should be an inspiration to others. I am delighted to be able to present them with this important award."