Contact Us
To get in touch with us please use the form below or visit the Contact Us page for more information.

Care Home of the Year, 2019
Sutton nursing home where residents' wishes are paramount named GSF Care Home of the Year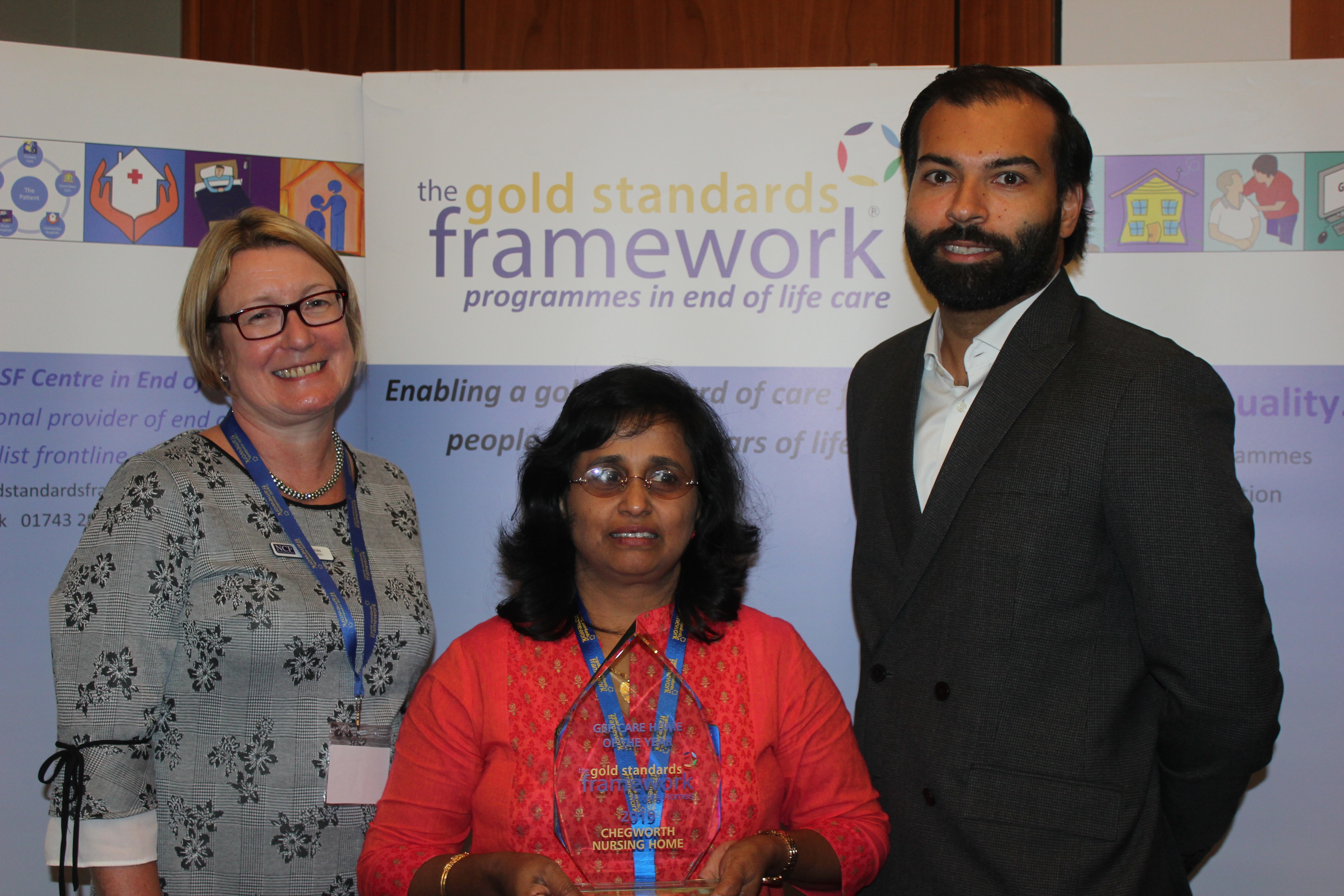 A Sutton nursing home to which two acute hospitals confidently refer palliative care patients with complex needs, has been named Care Home of the Year 2019 by the National Gold Standards Framework Centre for End of Life Care (GSF).
Chegworth Nursing Home was described by the judging panel as 'inspirational' in recognition of the "deeply impressive, systematic, individual, and movingly compassionate care it provides all its residents".
Rekha Govindan, Manager of the 43-bed nursing home, said she was absolutely delighted that the hard work and dedication of her team who have, since 2005, been committed to delivering the very best end of life care, was being recognised.
She added: "From the moment someone walks through our door we want them to live well until they die. And from the very first day we will work to collaborate with them and their relatives so that we can help them achieve their goals. Winning the GSF Care Home of the Year award is a fantastic reward for all of the staff who have been working so hard to do that for almost 15 years."
Only care homes that have demonstrated their long-term commitment to embedding quality end of life care are considered by the judges. All the shortlisted homes completed the GSF Care Homes training programme and have been accredited and then reaccredited at least once. Chegworth Nursing Home has been reaccredited three times demonstrating its long-term commitment to quality care as well as the sustainability of GSF.
Ms Govindan, who previously worked as a cardiac nurse, developed a passion for palliative care when the home began the GSF training in 2005. The palliative care at Chegworth is now so well-respected in the local healthy community that palliative care patients from the nearby St Hellier and St George's Hospitals are discharged to Chegworth on a regular basis.
As a measure of the home's success in meeting the wishes of its residents, all but two of the 37 who died in the last 12 months, did so in the home, in line with their preferences.
Ms Govindan adds: "We have very few hospital admissions as we are so good at assessing symptoms, planning care and can do most clinical things in the home. We also have an excellent relationship with our local GP and pharmacy. The GP will prescribe on request and the pharmacy is available 24/7."
When Chegworth residents do need to access healthcare from other providers, in hospital for example, the transition is all the smoother since it became the first London nursing home to access Coordinate My Care, an NHS service designed to build patients' care around the wishes they express and then ensure those wishes are shared amongst all relevant health and social care providers.
Ms Govindan said: "GSF has opened our eyes and those of healthcare practitioners generally to exactly what we should be doing and when, providing a simple step-by-step guide ensuring no one falls through the cracks. It has helped us look at the patient as a whole and assess all of their needs and wishes."
The GSF judging panel said: "Chegworth Nursing Home is inspirational, demonstrating an excellent level of dedication to make every day matter so that those they care for live well until they die, their needs and wishes respected fully and they with understanding and compassionate care they die a dignified death. The home offers deeply impressive, systematic, individual, and movingly compassionate end of life care."
As well as the Care Home of the Year Award, ten care homes were receiving the GSF Quality Hallmark Award for the first time, while a further 41 homes were being accredited for the second, third or fourth time.
The homes shortlisted for the GSF Care Home of the Year award were:
Camelot House & Lodge, Somerset
Care for Veterans, Sussex
Coloma Court, Kent
Fairholme Nursing Home, Cornwall
Hernes Nest House, Worcestershire
Hill House Nursing Home, Surrey
Hyman Fine House, Sussex
Margaret Thatcher Infirmary, London
Streets Meadow, Dorset
The Lawns Nursing Home, Dorset
The White House Nursing Home, Surrey
Uplands, London
Whiteley Village Care Centre, London
Windmill Lodge Care Centre, London
Liz Jones, Policy Director of National Care Forum, who presented the awards, said: "Care home residents and their families want and should be able to receive compassionate, personalised and proactive care. The Gold Standards Framework is a fantastic resource to help the care home workforce provide this. Every home that receives the GSF Quality Hallmark award should be proud they have demonstrated that their residents are receiving that quality of care in the place and manner of their choosing."
More than three thousand care homes have completed the GSF Care Homes programme since it was launched in 2004 and more than 750 have gone on to become accredited. The Care Homes Programme is accessible and affordable and delivered both by the Centre itself and a network of 18 regional centres across England.
GSF Quality Hallmark Awards are presented to homes that demonstrate real improvement in the quality of care they provide. Many halve the number of their residents dying in hospital as well as halving crisis hospital admissions, leading to greater satisfaction for families, residents and staff and significant cost savings for the NHS.